Welcome to RailfanLocations
We've moved to a more reliable pop-up free web host!
Visit our new site at
RailfanLocations.weebly.com
Its best to type type it into the address bar to link to the new site.
Macungie, PA
The town of Macungie transformed the area where the old train station once stood many years ago, and built a flower park with a fountain. Additionally, they built a pavilion in a design that resembles the former train station. Located trackside, the pavilion has become a popular destination for Railfans. I'm sure the town didn't anticipate it when they built it, but a hidden tourist magnet has blossomed. Located less than 2-hour's drive from New York City, Philadelphia and Harrisburg, Macungie is a great place to watch freight trains. Norfolk Southern's (former Conrail) Reading Line is Norfolk Southern's primary freight route between Harrisburg / Reading, PA and the busy northern New Jersey train yards serving the New York area. The double track line sees its share of foreign power, the lack of a need for cab signals lets anyone's locomotives lead on this line. Traffic is a good mix, merchandise freight, intermodal (including double stacks), auto-racks, and a fair amount of extras (and surprises such as high & wides) can be found here. The pavilion is located on the east side of the Route 100 grade crossing, south side of the tracks, making lighting for pictures during most of the day perfect. Trains blow their horn for the crossing which adds to the excitement as they pass the pavilion.
Location info:
Town / City: Macungie, PA – 10 miles southwest of Allentown, PA.
Location Name: Macungie Flower Park (Proper name) / Macungie Railfan Pavilion (Popular name)
Railroad(s): Norfolk Southern Railway
Rail Traffic: Expect around 30 trains during a 24 hour period. Both eastbound & westbound signals can be seen from the park. Signals are approach lit, meaning they are dark (turned off) until a train gets close. Signals light up several minutes before a train passes.
Site Details: Covered open air pavilion located trackside. Several park benches and picnic tables offer visitors rest between trains. Located on the south side of the tracks, the area is wide open for photography and video. We do have to point out, there is a stub end siding between the pavilion and the mainline. In the past NS has used this siding to store track cars during track work projects. Sometimes fright cars can also be seen in the siding, but usually do not block the view from the pavilion since it's an NS rule not to foul vision of a grade crossing for motorists. The pavilion is close enough to the crossing to be within eyesight of that rule. Stored freight cars down the track may block the view of the eastbound signal, if so, please stay off the tracks. Use your radio scanner instead for a heads up of an approaching train.
Restrooms on site: No. Restrooms can be found a short drive away at Turkey Hill, or McDonalds to name a couple.
Food: None on site or within walking distance, a short drive north will get you to McDonalds or mini-marts Turkey Hill or Wawa.
Picnic Area: Picnic tables in the covered pavilion.
Parking: Yes, free parking. You can watch trains from your automobile.
Lighted for evening railfanning: Not sure.
Scanner Frequencies: 161.070 / 160.800 / 160.860 / 160.980
Directions: From Interstate 78, take exit # 49A (for Route 100 South). Drive south on Route 100 to Macungie. Note just north of Macungie, you will cross over a single track railroad line, this is not the location (its an NS branch line), keep driving south, passing McDondalds, Wawa, CVS, Weis Market, and Turkey Hill. Soon after Turkey Hill you will cross the double track railroad; the park will be on your left.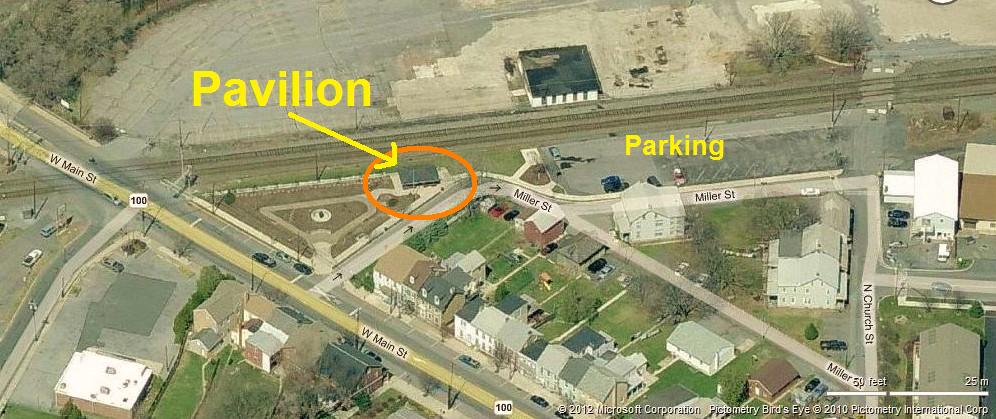 Motels / Hotels: There are no motels in Macungie. The Allentown area is flooded with motels. Several are located in the area of the junction of Route 100 and I-78. There is a Hilton Garden Inn that has a great view of an industrial lead used by Norfolk Southern. Expect no more than one local train past there a day or less. It operates when needed, usually in daylight. (The proper name of that motel is Hilton Garden Inn Allentown West - Breinigsville, PA). The closest railfan motel is located in Reading, PA, about a half hour west of Macungie on Route 222. Details on that can be found on RailfanMotels.com, select Pennsylvania, than Reading.