Welcome to RailfanLocations
We've moved to a more reliable pop-up free web host!
Visit our new site at
RailfanLocations.weebly.com
Its best to type type it into the address bar to link to the new site.
Dalton Freight Depot / Dalton Visitors Center – HAIR Interlocking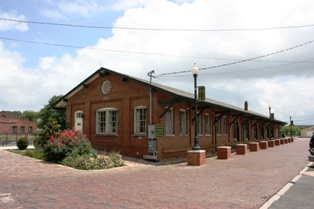 Downtown Dalton, Georgia is a railfan's hot spot. With 50 to 55 trains through Dalton on an average day. Dalton is one of the few (if not only) places in Georgia where the CSX and Norfolk Southern Railway cross each other at grade. Norfolk Southern sold the former Southern Railway freight depot to the City of Dalton. The city has restored the old freight station and created an excellent train watching location, as well as a visitor's center. The platform along the building is ideal for photography. Benches, chairs and tables are available for train watchers to rest between trains. An ATCS video monitor displays the active dispatcher's board so you know when the trains are coming; a radio audio feed also lets you listen in to the railroad action. For those who want to watch trains from ground level, no problem; a 4-foot high steel (iron looking) fence protects visitors from stepping foot on the railroad property.
Location info:
Town / City: Dalton, GA
Location Name: The Dalton Freight Depot, located at 305 S. Depot Street in Downtown Dalton.
Railroad(s): Norfolk Southern's Georgia Division (Atlanta to Chattanooga) and the CSX Western & Atlantic Subdivision (Atlanta to Chattanooga)
Rail Traffic: Expect 50-55 trains during a 24-hour period. CSX operates about 20 trains per 24 hours, NS operates 30-35 per 24-hours. Trains consist of a wide range which includes merchandise trains, double-stack / intermodal trains, and coal trains that commonly operate with BNSF or UP locomotives, usually with a DPU unit on the rear. Same set up for the empty hoppers heading back west.
Site Details: A well planned and established train watching location. Similar to some other railfan parks in the country. HAIR Interlocking is located next to the freight depot. This busy railroad junction is near a railroad grade crossing, so lots of train horns will be heard! Since usually no more than one train can move through the junction at a time, the traffic is spread out. For railfans that enjoy different photo locations, Dalton has a lot to offer. Within walking distance of the freight depot, you can walk to the east side of the crossing for shots, there are a few local road bridges that can be used to capture overhead views, as well as a couple parking garages. Just remember to keep off railroad property.
Restrooms on site: Yes, inside the Visitors Center "Freight Station building", open during business hours.
Food: A Coke machine is onsite, food is a short walk / drive from the freight station building. Fast food restaurants are about a 5-minute drive from the site.
Picnic Area: Yes, tables, chairs, and benches are located on the freight station platform.
Parking: Free Parking. There are pleanty of parking spots. For those folks who like to wait in their automobiles between trains, there is only a handful of parking spots that are ideal for train watching from your automobile. The site is also large enough to spread out. No need to worry too many other fans getting in your way of photography or videos.
Lighted for evening rail fanning: YES. Its bright enough for nighttime video.
Scanner Frequencies: Norfolk Southern: Road 160.950, Dispatcher 160.245, 160.830.
CSX: Road are 161.370, 160.590, Dispatcher 161.520, 160.410.
Motels / Hotels: Dalton has a good selection of hotels & motels, most are located near I-75. There is one "railfan motel", Stay Lodge-Dalton, located at 1116 Willowdale Road. It doesn't offer the best view, and only one side of the building could offer a railfan view. Since we were only able to get minimal info on the Stay Lodge motel and with the access and lighting of the train watching location. We recommend one of the more popular "chain" motels, and spend more time trackside at the viewing platform. If anyone does stay at the Stay Lodge, please let us know how it was, we haven't yet rated that motel on our main web site RailfanMotels.